if you're looking for uhs MBBS date sheet 2019. Then you are at the right place here is official date sheet of uhs 2019 for all professional years.
Here is datasheet in High-quality images.
UHS MBBS Date Sheet 2019
Here is official and complete datasheet for mbbs and BDS students. Here is the
UHS MBBS 1st year Date sheet for Annual Proff 2018
MBBS 2nd Year Date Sheet
UHS 3rd Year Date Sheet
MBBS 4th Year Date Sheet
Final Year uhs mbbs date sheet 2018
Dear Students of MBBS, Here You can easily check the date sheet of all years in one place.
MBBS 1st Year Date Sheet
Here is the mbbs 1-year date sheet for the annual examination of mbbs. The Date sheet is in High-Quality image format. if you have any question regarding Comment Below. We always reply your precious comments.
10th November 2019 Anatomy and Histology
Second Paper will Be Physiology
Third Paper will Be Biochemistry

UHS MBBS 2nd Year Date Sheet
Many MBBS Students looking for 2nd year UHS Mbbs Date sheet. Here is date sheet in the High-Quality image. You can easily view it. remember this is official date sheet for annual examination.MBBS second year examination will start on 2nd October 2019. First Paper will be Anatomy. Second Papers will Be Physiology, the 3rd paper will be Biochemistry and 4th and lat papers will be Islamic studies.

3rd Year Date Sheet
If you are looking for MBBS 3rd year Date sheet. Here is uhs date sheet of the 3rd year. In high-Quality Image. The examination will start 12th October 2019.
First Paper will be Pharmacology
second paper will be general pathology and microbiology
Third Paper will be Forensic medicine and toxicology
Last paper will be 22nd October 2019.Behaviour Sciences (Easy)
UHS MBBS 2019 4th Year Date Sheet
Here is a 4th-year complete date sheet.in written format as well as in high-quality image.you can read and view easily. if you feel any type of difficulty.feel free to comment below.
Uhs fourth year MBBS Annual Examination 2018. will start on 26th October.
Related:- UHS MDCAT Result 2019

Final Year MBBS 2019 Date Sheet
Here is uhs mbbs date sheet 2018 for final year mbbs students.you can view this date sheet in the format of image.remeber this is official date sheet.
First Paper otorhinolaryngology
2nd paper ophthalmology
Medicine-1 and Allied
Medicine-2 and Allied
Surgery-1 and Allied
Surgery-2 and Allied
Obstetrics
Gynecology
Pediatrics
Related:- NUMS Entry Test 2019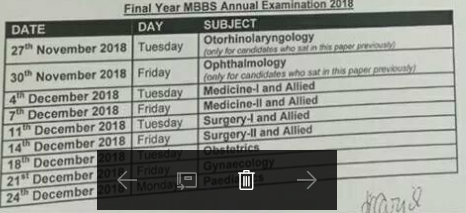 Final Here is Complete Date sheet. with subjects and date for mbbs annual examination.still you have any question about uhs date sheet 2019. You can ask in comment box.if you did not want to use the comment box, and still have question Contact us